UPCOMING EVENTS:
---
Harcourts Hawkes Bay Arts Festival
–29.10.21
I'm so looking forward to heading to the Hawkes Bay for wine–err, I mean, to speak at the festival!
I'll be reuniting with my pal Kyle Mewburn, who I spoke with at the Auckland Writers' Festival, and we're being interviewed by Tom Sainsbury for
'Stepping into the sun: Stories of coming out'
I reckon this might be quite a funny event...
book your tickets now!
PAST EVENTS:
---



Auckland Writers Festival

–16.05.21



This was so special to be a part of – firstly as I got to teach teenagers about finding your authentic voice and writing with honesty about yourself and others for the Schools Programme. And of course to get on the main stage in the Kiri Te Kanawa Theatre with two NZ literary legends. Link to the podcast recording is here and below.



Read Steve Braunias' slightly shit-stirring account of the Festival at Newsroom, or listen to the recording of the session.
---



Same Same but Different Gala

–12.02.21


Back on my bullshit at the Same Same but Different literary festival, part of Pride 2021!! Head to the Auckland Pride website to register.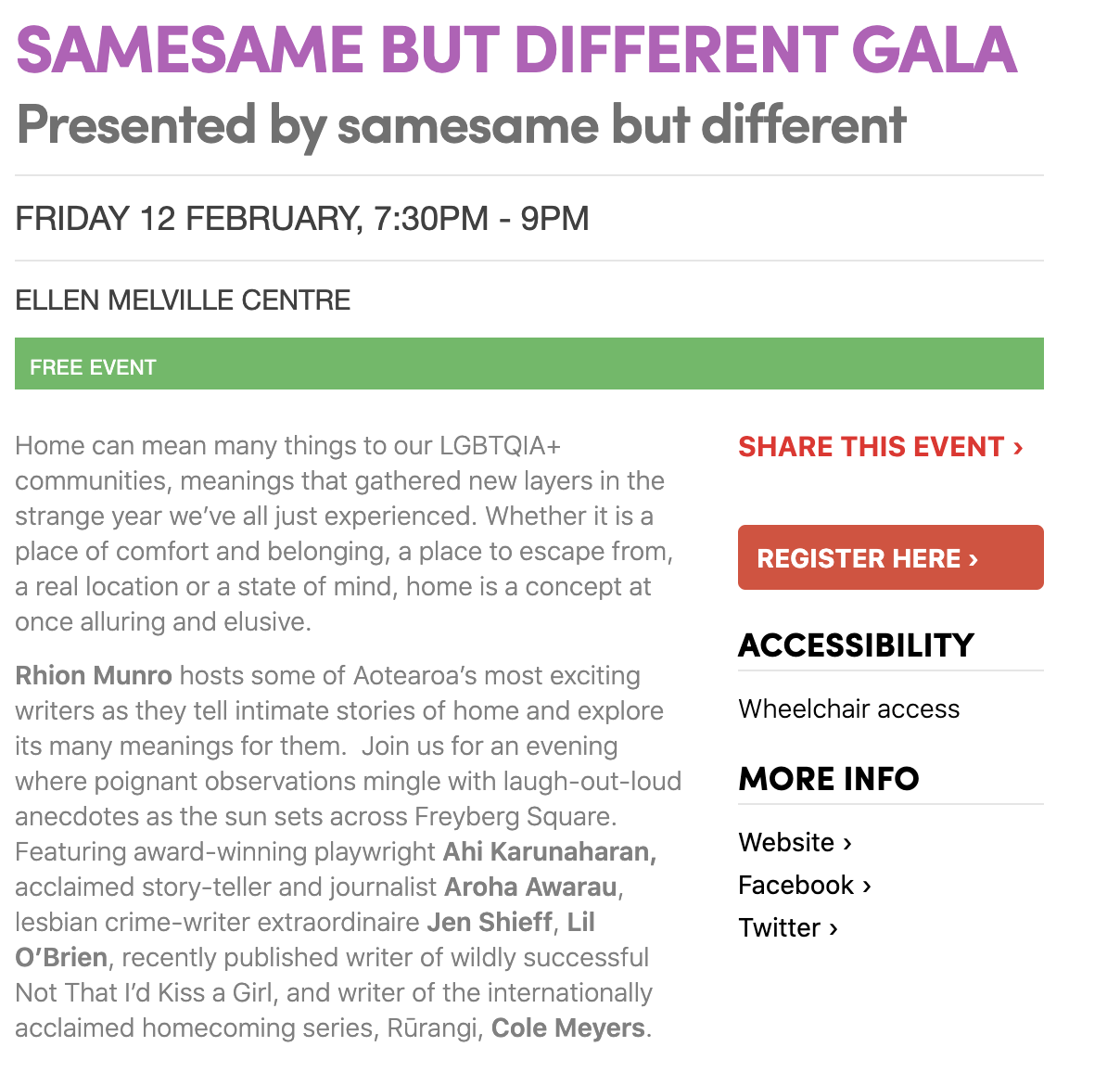 ---
WORD Christchurch
–29.10.20 to -01.11.20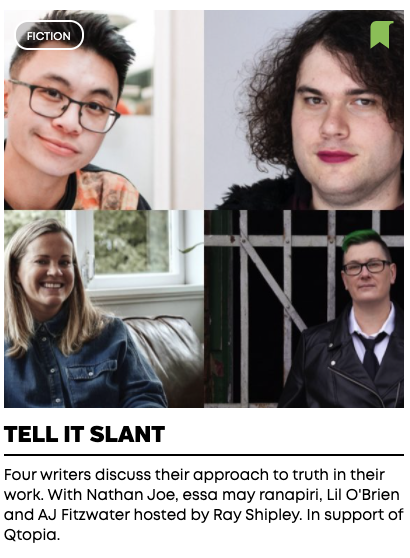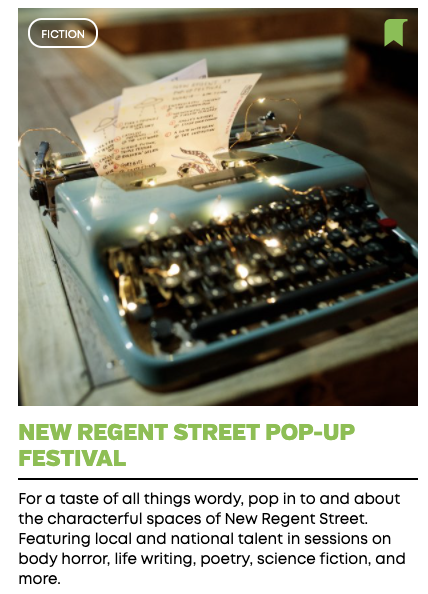 I am in FOUR events on Saturday in Christchurch. AM I MAD??
Update: I ended the night, after reading my strap-on scene, drinking whiskey amongst such company as Becky Manawatu and Paula Morris. Pinch me.
Check out the full programme
---
Ladies' Litera-tea, from The Women's Bookshop
–01.11.20
1:30pm-5pm Raye Freedman Arts centre, Epsom Girls, Auckland
A delightful afternoon where a group of New Zealand authors who have published a book in the last year each do a short talk about their work, with a reading from their book. Including me. I will be there doing that.

This years' line-up:
Olivia Hayfield (Sue Copsey)
Philippa Swan
Karlo Mila
Amy McDaid
Golriz Ghahraman
Monique Fiso
Hinemoa Elder
Rose Lu
Catherine Chidgey
Lil O'Brien
Debra Millar & Jane Ussher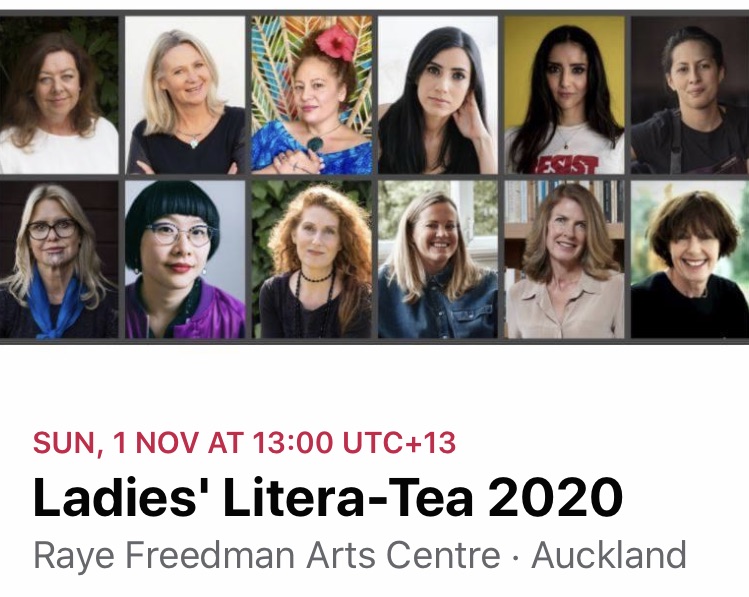 I've heard this is the Auckland literary event of the year...
---
–06.11.20 to 08.11.20
Various locations
I'm stoked to be headed down to Wellington for VERB, my favourite literary event of the year. You'll find me at:
1)
Not That I'd Kiss A Girl - A discussion with Emily Writes
Sunday 8 November, 11am, Meow
2) Bad Diaries Saloon with LitCrawl:
I join other writers to read cringey entries from my old journals
Saturday, 7 November, Time TBC, Venue TBC
The programme is officially launched in September - check the website
---
Nelson Arts Festival
-24.10.20
Pukapuka Talks
Check me out! My first ever writers festival as an artist.
---



Same Same But
Different Festival

–26.07.20

2pm, Online



An online discussion with Nevo Zisin, author of Finding Nevo, and Sam Orchard, as a part of the two-day Same Same But Different Festival: A celebration of Aotearoa NZ's LGBTQI writing talent.

Listen to the chat

---



Book Launch
The Tuesday Club


–02.07.20



COME OUT to the launch of Not That I'd Kiss A Girl!




Copies of the book will be available for purchase at the event from The Women's Bookshop, as well as complimentary drinks from Garage Project, Moi Wines and imagination gin.

Please RSVP at not-that-id-kiss-girl-book-launch.eventbrite.co.nz, as the venue has a capacity limit.

The venue has disabled access, and gender neutral bathrooms.


---