UPCOMING EVENTS:
---

May 2024 - watch this space for an announcement about the launch of 'OTHERHOOD, my next book.

More about 'OTHERHOOD here.


PAST EVENTS:

---
17-19 March, 2023,
New Plymouth
World of Words at WOMAD
---
April 2, 2023, 9am, Wānaka
In discussion with Charlotte Grimshaw


Look, Charlotte Grimshaw keeps trying to steal my limelight, but I'll allow it because we're bonded in the trauma of publishing very personal memoirs that our family members were NOT happy about.

If you're in the area, come see us speak as a part of Aspiring Conversations. Chloe Swarbrick will be doing some events too. I know all you queer ladies have a crush on her, as you should!

Buy a ticket here



---
Pride Authors Panel
23 June 5:30-7:30pm
Run by Inside Out Aotearoa

Inside Out are the BEST, supporting rainbow youth across New Zealand with everything from school programmes to resources for workplaces and schools, to great intiatives like Out on the Shelves, where you'll find Not That I'd Kiss A Girl.

I'm stoked to be joining some other rainbow authors for a panel during Pride 2022 – register here and you can ever write a terrifying question that I'll have to answer on the fly.

︎ REGISTER TO ATTEND


---
March 25-27, Wanaka
In discussion with Charlotte Grimshaw
UPDATE: CANCELLED DUE TO COVID - this has been rescheduled for 2023, see above

Speaking on Sunday, March 27 (COVID-dependent) with Charlotte Grimshaw, author of The Mirror Book.

---
3-5 December, 2021
Wellington
Panel: On writing and publishing family mythologies and the ethics of consent
Stoked to be speaking on a panel with some old faves and new friends at NonfictioNOW, on the topic of:

'On writing and publishing family mythologies and the ethics of consent'



With: Rose Lu, Alie Benge, Kyle Mewburn, Gigi Fenster



About NonfictionNOW
NonfictioNOW Conference is a regular gathering of over 400 nonfiction writers, teachers, readers and students from around the world in an effort to explore the past, present, and future of nonfiction. Luckily for me, this year's conference is in little old NZ.
NonfictioNOW gathers leading writers from around the world to share notes with emerging peers and audiences on the intricate challenges and intriguing delights of writing and reading nonfiction NOW.
Harcourts Hawkes Bay Arts Festival
–29.10.21

UPDATE: EVENT CANCELLED DUE TO COVID

Very gutted that this event with Tom Sainsbury and Kyle Mewburn was cancelled due to COVID and Aucklanders being unable to travel. I really do feel for organisers during these times.

However!

The Festival will go on, just not with any Jafas, phew.
---



Auckland Writers Festival

–16.05.21



This was so special to be a part of – firstly as I got to teach teenagers about finding your authentic voice and writing with honesty about yourself and others for the Schools Programme. And of course to get on the main stage in the Kiri Te Kanawa Theatre with two NZ literary legends. Link to the podcast recording is here and below.



Read Steve Braunias' slightly shit-stirring account of the Festival at Newsroom, or listen to the recording of the session.
---



Same Same but Different Gala

–12.02.21


Back on my bullshit at the Same Same but Different literary festival, part of Pride 2021!! Head to the Auckland Pride website to register.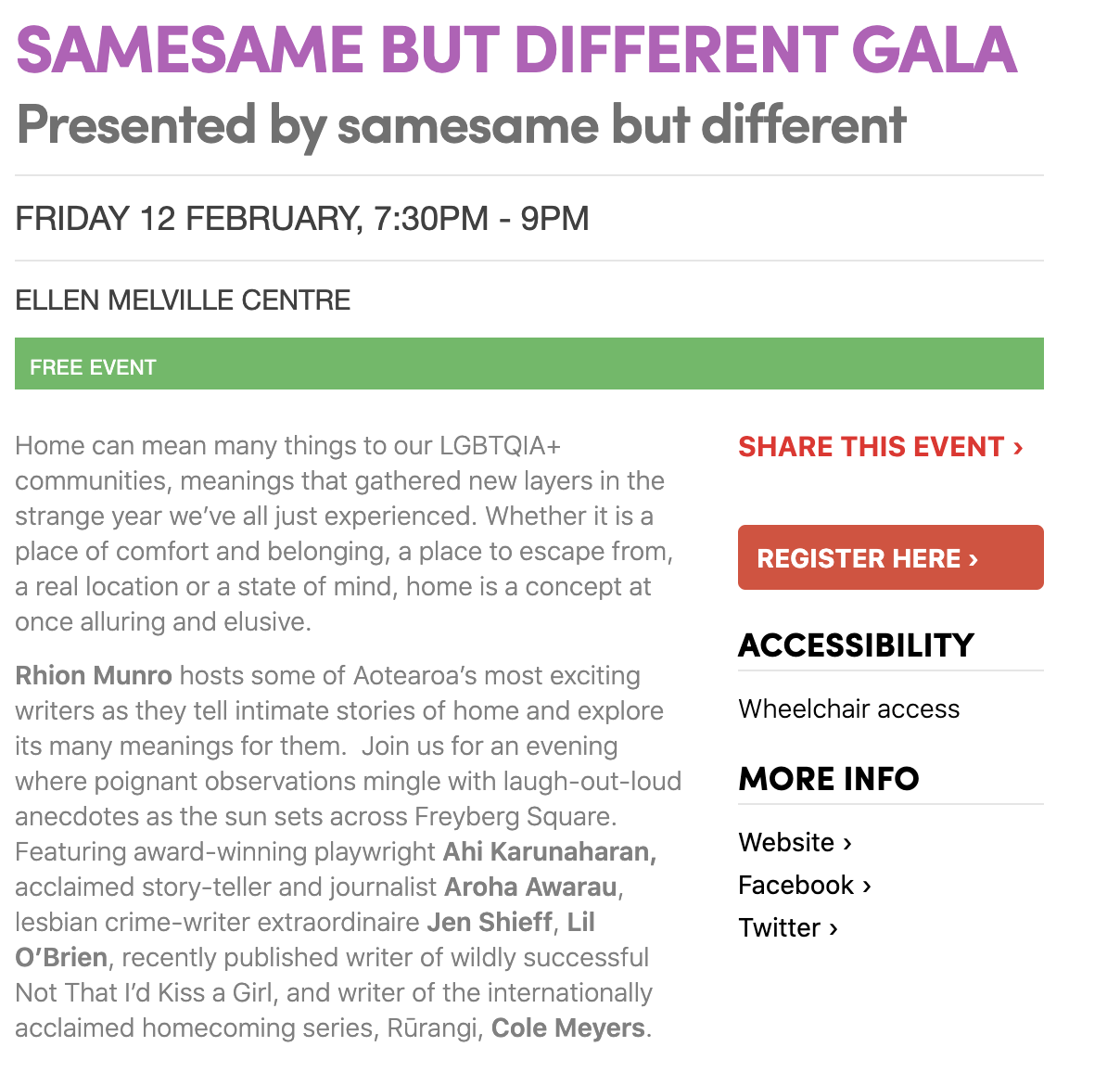 ---
WORD Christchurch
–29.10.20 to -01.11.20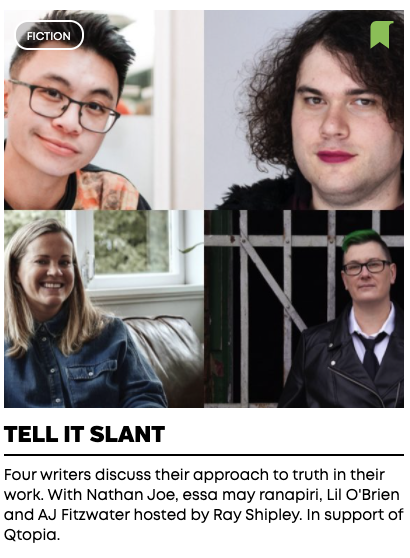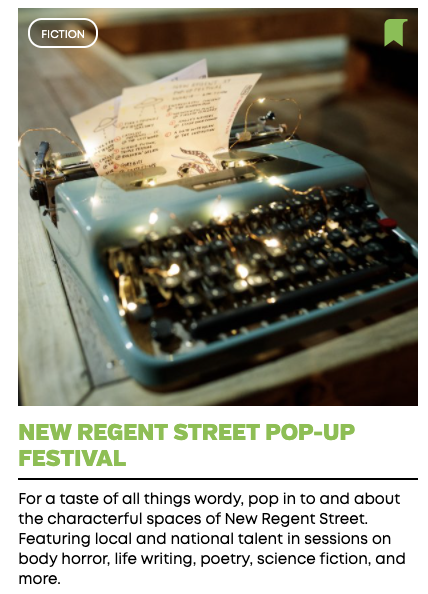 I am in FOUR events on Saturday in Christchurch. AM I MAD??
Update: I ended the night, after reading my strap-on scene, drinking whiskey amongst such company as Becky Manawatu and Paula Morris. Pinch me.
Check out the full programme
---
Ladies' Litera-tea, from The Women's Bookshop
–01.11.20
1:30pm-5pm Raye Freedman Arts centre, Epsom Girls, Auckland
A delightful afternoon where a group of New Zealand authors who have published a book in the last year each do a short talk about their work, with a reading from their book. Including me. I will be there doing that.

This years' line-up:
Olivia Hayfield (Sue Copsey)
Philippa Swan
Karlo Mila
Amy McDaid
Golriz Ghahraman
Monique Fiso
Hinemoa Elder
Rose Lu
Catherine Chidgey
Lil O'Brien
Debra Millar & Jane Ussher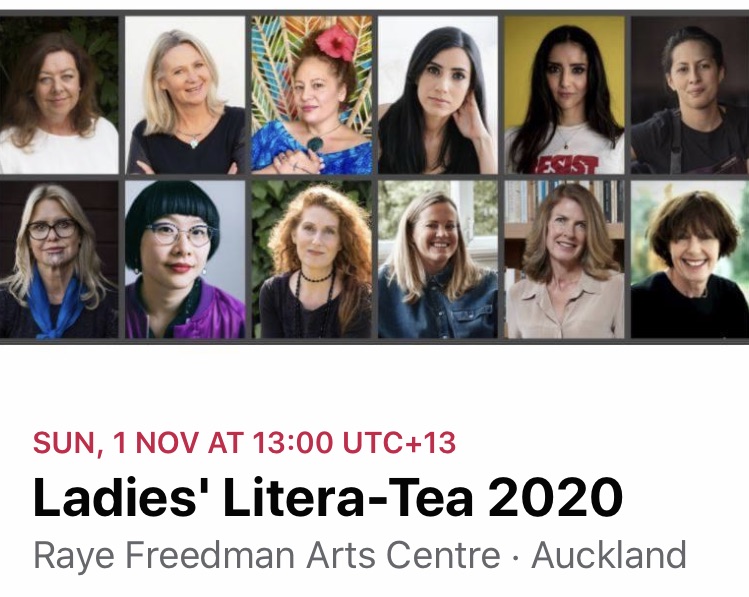 I've heard this is the Auckland literary event of the year...
---
–06.11.20 to 08.11.20
Various locations
I'm stoked to be headed down to Wellington for VERB, my favourite literary event of the year. You'll find me at:
1)
Not That I'd Kiss A Girl - A discussion with Emily Writes
Sunday 8 November, 11am, Meow
2) Bad Diaries Saloon with LitCrawl:
I join other writers to read cringey entries from my old journals
Saturday, 7 November, Time TBC, Venue TBC
The programme is officially launched in September - check the website
---
Nelson Arts Festival
-24.10.20
Pukapuka Talks
Check me out! My first ever writers festival as an artist.
---



Same Same But
Different Festival

–26.07.20

2pm, Online



An online discussion with Nevo Zisin, author of Finding Nevo, and Sam Orchard, as a part of the two-day Same Same But Different Festival: A celebration of Aotearoa NZ's LGBTQI writing talent.

Listen to the chat

---



Book Launch
The Tuesday Club


–02.07.20



COME OUT to the launch of Not That I'd Kiss A Girl!




Copies of the book will be available for purchase at the event from The Women's Bookshop, as well as complimentary drinks from Garage Project, Moi Wines and imagination gin.

Please RSVP at not-that-id-kiss-girl-book-launch.eventbrite.co.nz, as the venue has a capacity limit.

The venue has disabled access, and gender neutral bathrooms.


---