From Stuff, to Canvas, The Spinoff and all over the New Zealand radio airwaves, Not That I'd Kiss A Girl's coming out made a splash.

You'll find more reviews from amazing bookstagrammers on my Instagram @lilobrienwrites
---
---
Not That I'd Kiss A Girl - the TV series
-02.07.21

I am SO stoked to announce that Not That I'd Kiss A Girl has been optioned by South Pacific Pictures to be made into a TV series, woohoo!

This has been in the works for quite a wee while, but I finally signed the contract with the creators of my all-time favourite, Shortland Street (amongst, you know, a whole bunch of other amazing NZ TV series) – and weirdly enough, did it on the anniversary of the publication of the book, July 2nd.

One of the most exciting parts for me is the chance to be involved in the creation of the show too, as TV has always been one of my great loves. I'm very excited about the chance to learn from some greats.

TV land works slowly, but I will post any updates as they come.
---
---
Essay: The Book Launch
-06.06.21
The Spinoff's Sunday Essay
"The Sunday after my memoir was launched, my uncle walked down to his local shop and purchased a copy of the Press. Seated in his favourite chair, he opened the paper to the centre to remove the inserts, where he saw me staring out at him with a wry look, wearing a T-shirt that said: "Nobody knows I'm a lesbian."

He picked up the phone and called my mother."
Read my full essay on The Spinoff
---
---
"Her description of using a strap-on for the first time left me in tears. I laughed so hard I scared my cat off the bed (if that isn't the gayest couple of sentences I've ever written I will eat my Doc Martins)."
Agnes & Edie is an amazing New Zealand-based store and resource that does everything from selling binders and LGBTQ+ pins and tees to posting reviews – and I was privileged enough to be reviewed by Kiwi poet
Hadassah Grace
.
The sentence above has to be one of my favourites from all reviews done of Not That I'd Kiss A Girl. She also writes:
"O'Brien is a straight shooter – I imagine she writes just as she speaks. By the end of the book you feel as though you've made a new friend; one who's shared their life with you, and made you laugh, cry and gasp while doing it."
I love when people feel an intimacy with the book, like they've made a friend. I would like to think of the book as one that people take with them as they move flats, cities, countries – because it means something to them and they want it near. My favourite books have moved to New York City and back.
Related, this is one of my favourite lines from a
Goodreads review
by Ruby Cumming:
"Reading this book is like having a really good D&M chat with one of your articulate and entertaining mates while you get on the wines in the bathroom at a house party."
Fuck yeah. Nothing better than having the party fade into the background because you're having the best D&M with a friend or friend-to-be.
---
Podcast: Comedy vs Tragedy

-24.10.20

Pukapuka Talks @Nelson Arts Festival



This was my FIRST ever writers festival! I'm a bit stumbly on the reading, but I don't hate my voice as much as I thought!! Also, Eamonn is super-interesting and his book, '2000ft Above Worry Level' was one of my favourite books of 2020.




---
Review - Academy of New Zealand Literature
-29.07.20
By Ruby Porter
"Where O'Brien's writing excels is in capturing the elusive, naming the unnameable: the intensity of young love, imperceptible shifts in power, what remains of memories which have been lost to shock..."
...
"'...Not That I'd Kiss a Girl' is truly, deeply, hilarious. Lil dismisses the one out girl in her uni hall when she hears 'that she'd bragged about having a double dildo. What an attention-seeker, I'd thought. Even though I couldn't stop wondering what a double dildo was'. The humour is self-deprecating, open, and necessary. There's a lot of pain in this memoir. But even in the darkest places, O'Brien still manages to find the light."

---
Interview
-29.07.20
Auckland Libraries' Books and Beyond podcast
My favourite chat to date. I sat down at Planet FM with Alison Fitzpatrick from Auckland Libraries and we had so much to talk about that we ran out of time. At least half of that was discussing the L Word, I reckon.
We also covered some cool stuff like why representation matters, shame and vulnerability, being 'othered' and how to create a safe space in your family for young people to come out.
Listen to the Books and Beyond chat, and catch me talking to Alison again at the ALBA meeting at Garnet Station on 14 October.
---
Interview
–20.08.20
Storyo

I loved getting questions in written form for this Storyo interview, so I could really chew over my answers.
Here's what Storyo is about, from their website:
"Storyo was created to share stories of women and non-binary in Aotearoa New Zealand. Our goal and mission is to show you the vulnerable and honest sides of everyone's journeys. To show you that we are all here on the same page - raw, unsure, inspired, fighting and figuring stuff out together!
"
"At one point just before the book was due to come out, I was thinking, "I guess I should be feeling anxious about all the people who are about to read some pretty intimate stuff about me".
Go read some intimate stuff about me on the Storyo website...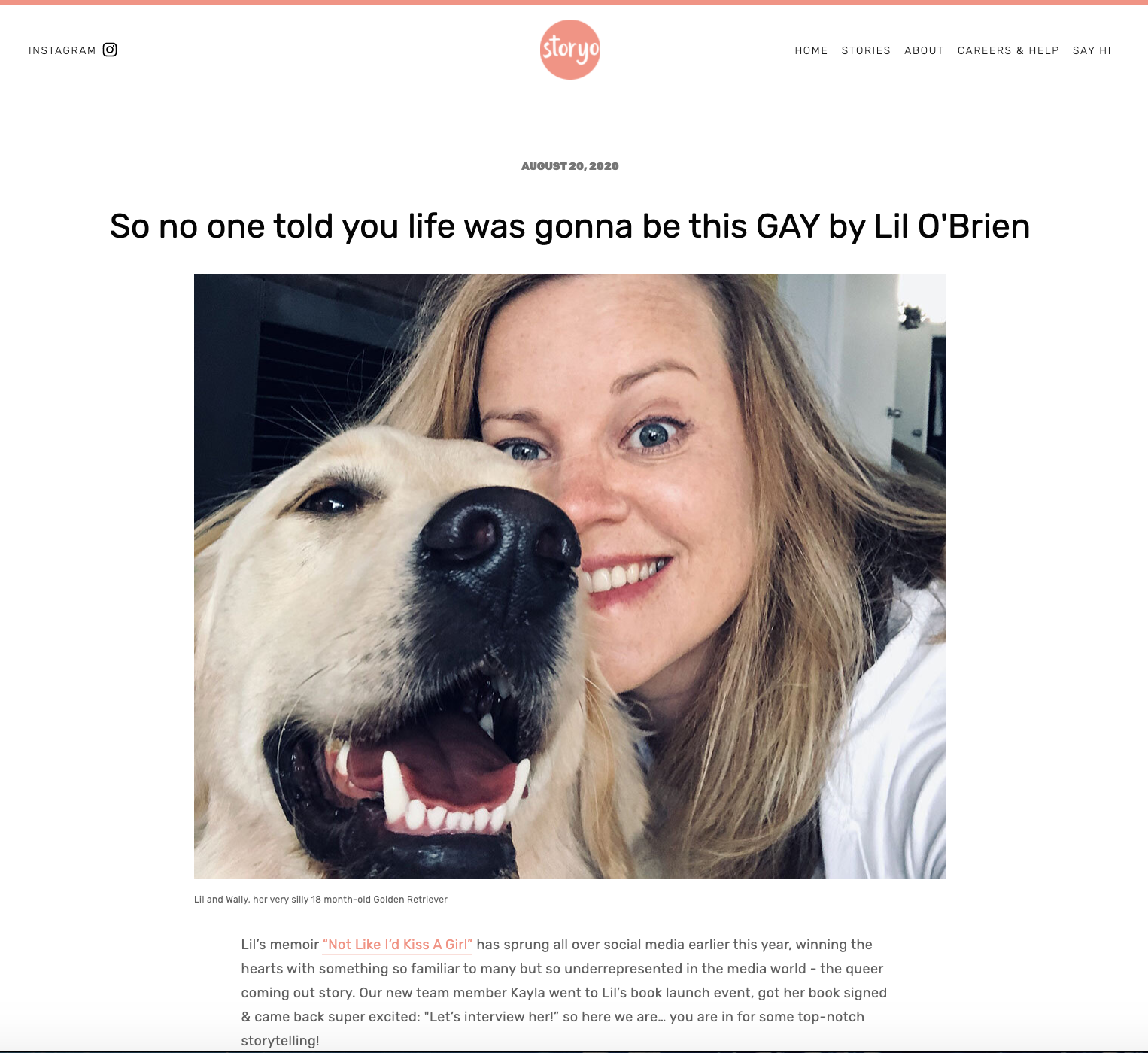 ---
'The Liberation and Risks of Memoir' - discussion with Sam Orchard and Nevo Zissin
–12.08.20
Same Same but Different Festival
Listen to my hour-long chat with two rad peeps
Illustration by Tara Black @taracomics
---
Unity Books review
–10.07.20
By Demi Cox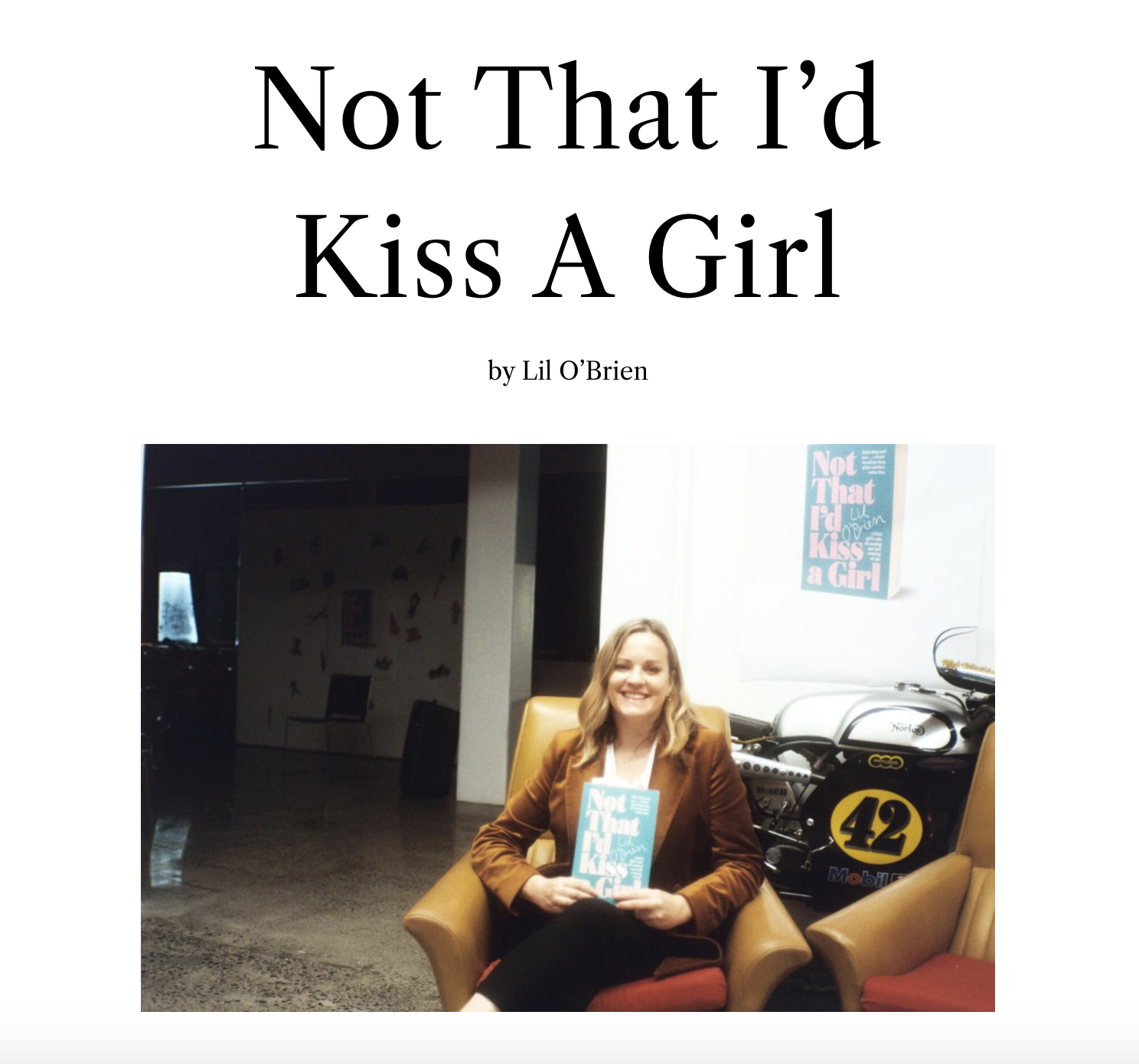 "But I can say this: reading her book felt like a hot warm bath, feeling all the tension in my body slip away.
I took off my camouflage and leaned back into the water. Healing is painful. Reading
Not That I'd Kiss a Girl
is like a deep tissue massage, a beer after work, a long and wholesome sigh. Her book is that scream you want to release because you know it will feel good - it says just what you were thinking and all of a sudden you don't feel so alone. When I read her title,
Not That I'd Kiss a Girl
, like words scratched onto the walls of a cave, I am back in that dimly lit space and trying to make sense of her words - I feel nostalgic."
Read the review...
---

Live radio interview

-01.07.20

The Hits/NZME
Click the image to hear me suck up to Anika by calling her NZ's top celesbian
---
The Spinoff review
–05.07.20
By Sam Brooks
"When it comes to her sexuality, her relationships, and her failings within those, O'Brien is admirably frank
.
She beautifully renders experiences that many authors would find difficult, if not impossible, to delve into. Even better is her ability to recount what it's like to come to terms, as fully as one can, with one's own place in the world. For people on their own similar journey (personally, I'm checked into a hotel near the end of that road), that's invaluable."
Read the review...
---
Radio interview
–05.07.20
Radio New Zealand
Listen to the interview with Lynn Freeman
---
Newsroom.co.nz

–02.07.20
By Emma Espiner
So Gay.

'"You're the only friend I can't flirt with," she said to me when we were planning her book launch.
It figures. I was raised by a coven of Lower Hutt lesbians in the 90s. It was to their collective consternation that I turned out straight as an arrow and often conservative, a rule follower in a community of rainbow rebels.'
Read the article...
---
The Spinoff
–02.07.20
By Lil O'Brien
"People tell me that I can make anything gay.
Sometimes they're talking about physical things, like when I put on a plain white T-shirt then roll the sleeves over twice. But I think that mostly what they're talking about is my way of looking. I have a queer gaze. It's a way of seeing that influences what I notice when I step into a room full of people and it also means I can find something queer in almost anything."
Read the essay...
---
Stuff.co.nz
–04.07.20
By Lil O'Brien
I hadn't got to the point where I could use the word "lesbian" comfortably. It seemed too foreign, and I didn't like its implications – one of those being its connection to "hot girl-on-girl action" flashing in neon from the banner of a porn site. In a way I did feel like a girl gone wild, like I was staging my own personal rebellion, but I wasn't about to enter a wet T-shirt contest or make out with women for the benefit of men any time soon.
Read the extract
---
NZ Herald
–04.07.20
By David Herkt
From the review: 'A journey to find self and place'

"Compulsively readable and very much aware of the world, O'Brien's memoir is suspenseful and engaging. The book is practical and human – something that is more than valuable amid the sometimes pious wokeness of the early 21st century. It is also very funny, with a humour based on honest observation."
From the interview: 'Coming out is hard to do'
"O'Brien recounts life as it is lived, sometimes confused, sometimes clear. Amid the life-changing good times and the raw and painful moments, she packs in incidents of laugh-out-loud humour and acute observation."
...
"'I just wanted to do a deep dive into the times I felt I made progress and the times that I back-tracked. A book like that was what i was looking for when I was a teenager – not someone necessarily saying how to do it, but just sharing how they did it...'"
Read the review (Subscription only)
Read the interview (Subscription only)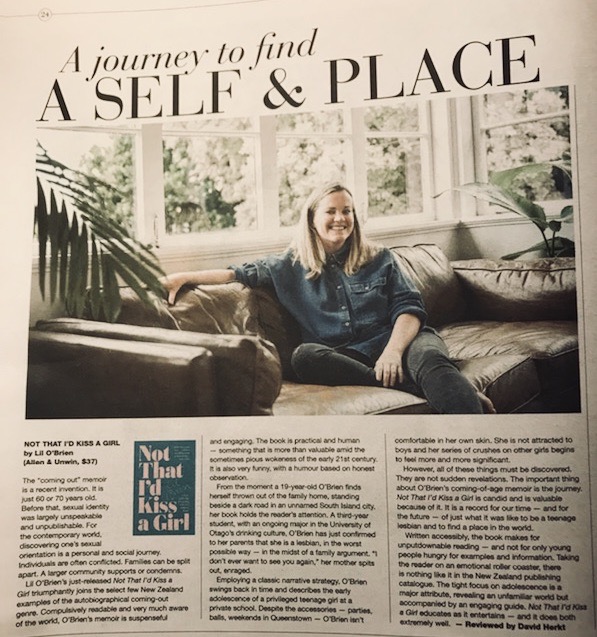 ---
Radio interview
-02.07.20
The Breeze Timaru
Click the image to listen to this short and sweet interview
---
Radio interview
-02.07.20
The Breeze Manawatu
Click the image to hear me talk about how funny I am
---